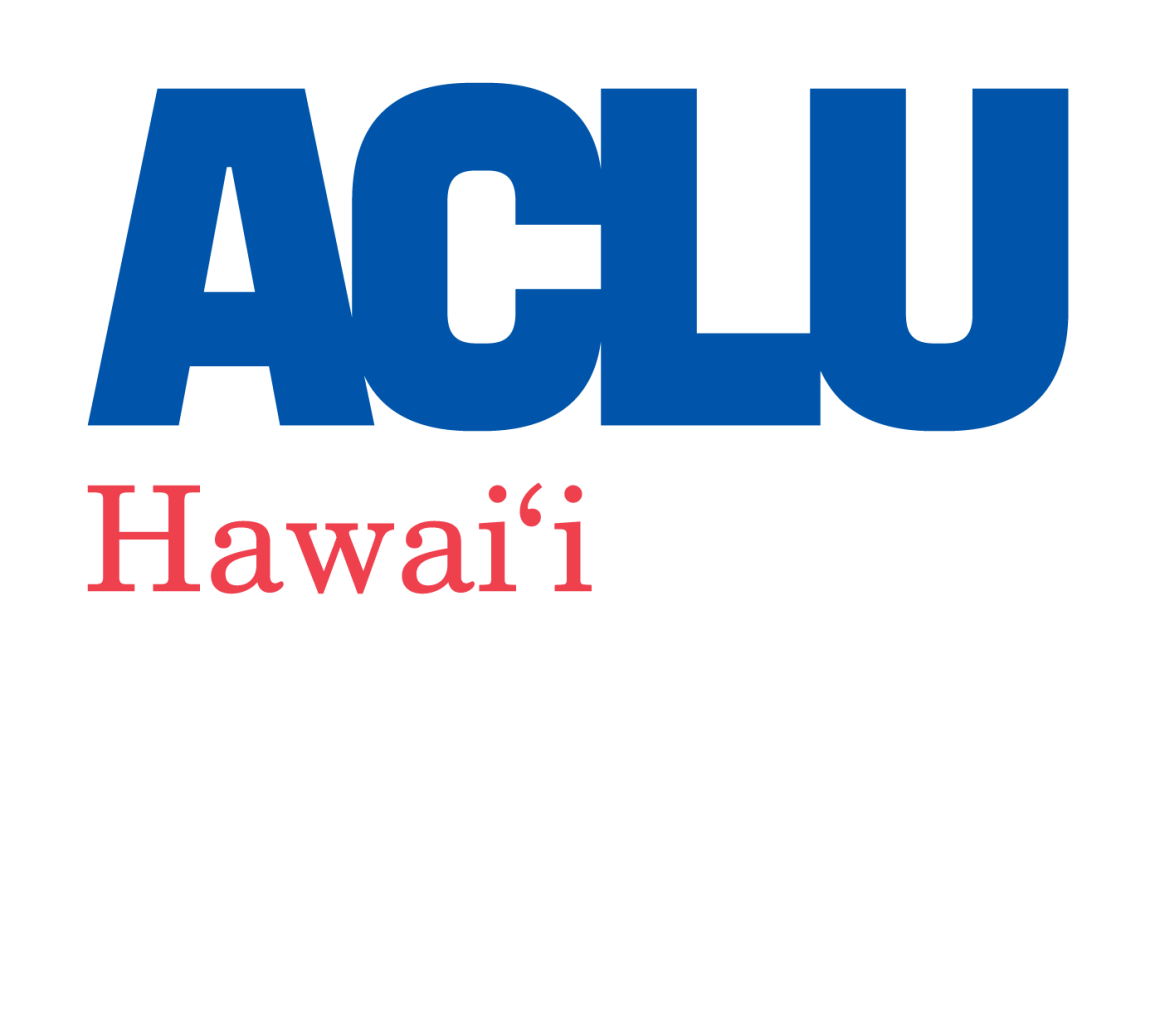 Job Announcement
Policy Legislative Assistant
American Civil Liberties of Hawai'i
Honolulu, HIBe Part of a Pivotal Moment in History
The ACLU of Hawaiʻi is excited to announce that our Policy Department is accepting applications to work as an ACLU Policy Legislative Assistant. 
Who We Are 
The ACLU of Hawai'i is an affiliate office of the American Civil Liberties Union, a national nonprofit, nonpartisan public interest organization devoted to the protection of civil rights and liberties through litigation, legislative advocacy, organizing, and community education. The ACLU of Hawaiʻi works primarily on issues that directly impact people who live in Hawaiʻi. 
We take pride in our reputation of over 50 years fighting for people whose civil rights are challenged. And now—with never-before-imagined threats to civil liberties nationally, the increased need to be a check on government locally, the still-evolving impacts of the COVID crisis on our rights, and the 400-years overdue increased awareness of the impacts of systemic racism on every element of our society—it is the ideal time to join us and make a meaningful impact on the future of Hawai'i and the United States! 
We are currently pursuing specific integrated advocacy campaigns (Decriminalizing Poverty, Reimagining Policing and Smart Justice), along with the protection of core civil rights and liberties.  Our intention is to achieve measurable goals that will expand civil rights and liberties while building the long-term power of the ACLU and the civil liberties movement.   
What We Do 
The Policy Department is currently working on a variety of matters, including but not limited to bail reform, Clean Slate, abortion access, policing accountability, juvenile justice, bodily autonomy, decarceration, eliminating racial disparities in our criminal legal system, and the right to privacy. The Policy Department also engages in other forms of advocacy, including testifying before other government bodies (local, state and federal), requesting information under Hawaii's Public Records law, providing education on public policies, and working in collaboration with our legal and field Departments, as well as community-based organizations and groups to advance campaign objectives.  
 Position Description Overview 
The Policy Legislative Assistant will work full-time, under the supervision of the Policy Director (and also in coordination with other staff), to support the advocacy work of the Policy Department.    
Essential Duties and Responsibilities  
Contribute to developing an impactful legislative agenda at the state and county level, and occasionally at the federal level in coordination with the national office that advances the ACLU of Hawaii's campaign goals and responds to emerging threats to civil rights and liberties 
Contribute to identifying systemic patterns of civil liberties violations and implementing strategies and tactics to secure legislative changes. 
Foster a collaborative organizational culture within the policy program and the affiliate to implement integrated advocacy campaigns and policy work on core civil rights and civil liberties threats.  
Collaborate with ACLU of Hawai'i colleagues under the supervision of the Policy Director to advance affiliate policy goals.  
Contribute to managing the legislative calendar to ensure that the affiliate's legislative package is intentional and timely in a way that advances our policy goals.  
Assist with analyzing and tracking legislation in quantifiable systems for tracking legislative progress. 
Assist with coordinating volunteer engagement for advocacy initiatives and other advocacy opportunities.  
Contribute to the implementation of policy program policies, procedures and budget and reimbursements for the Policy team.  
Conduct policy research and interviews with stakeholders and community members impacted by current and proposed legislation.  
Under the direction of the Policy Director, contribute to lobbying on civil rights and liberties issues including but not limited to preparing and submitting testimony, and participating in legislative hearings, workgroups and coalition meetings.  
Work with the community and in coalitions to advance campaign priorities. 
Assist in overseeing the affiliate's compliance with ethics and lobbying rules at the county, state and federal levels and filing the necessary reports to remain in good standing. 
Collaborate with Policy staff to plan and implement integrated policy initiatives, involving a combination of strategies.  
Assist in preparing and editing advocacy materials including policy reports, action alerts, talking points, letters, op-eds and website materials.  
Contribute to the construction and distribution of surveys to be sent to candidates running for office to explain their policy positions to the public.  
Aid in the development of events to educate the community on campaign priorities and policy initiatives and forums for candidates for office.  
Assist in building long term, trusted relationships with elected and appointed officials, staff, policymakers and grasstops leaders at the federal, state and county levels.  
Work with the Policy Director to create agendas and planning documents, attend meetings, and take meeting notes for distribution.  
Perform other duties as needed.  
Qualifications- What You'll Need 
 We will consider candidates who have a bachelor's degree and/or equivalent public policy and legislative experience for a minimum of two years. 
We are looking for candidates with a demonstrated commitment to—and substantive knowledge of—civil rights, civil liberties, equity, and social justice (broadly defined). Candidates should possess strong research, writing, and analytical skills, as well as strong communications, organizational, and time management skills.  
We value lived, educational, and professional experience that would make a Policy Legislative Assistant  effective at working with communities  impacted by violations of civil rights and liberties. While not required, we prefer candidates who are familiar with Hawaiʻi—its culture, politics, history and current civil rights and liberties challenges and has established relationships with policy makers and social change organizations.  
Other qualifications include the following:  
Understanding of a range of civil liberties issues and commitment to advancing the ACLU's values, mission and goals.  

Demonstrated advocacy experience in political, legislative, or policy work, preferably in Hawai'i. 
Strong communication and interpersonal skills, and ability to work professionally with diverse stakeholders and differing viewpoints.  
Demonstrated ability to work independently as well as within a team in a fast-paced environment. 
Excellent writing and research skills. 
Ability to prioritize and manage projects and adjust strategy and deadlines to meet changing demands and deadlines.  
Demonstrated ability to collaborate with colleagues within and across departments.   
Experience in submitting testimony relating to proposed legislation and other policy changes.  
Excellent organizational skills and ability to track policy goals, legislation, and legislative progress.  
Demonstrated ability to work with diverse coalitions and community groups, across the political spectrum, and value differences of race, ethnicity, age, gender, sexual orientation, religion, ability and socioeconomic circumstances.  
Proficiency in Microsoft Office Suite (Word, Excel, Outlook, etc.) and scheduling virtual meetings using different platforms (i.e. ZOOM, TEAMS, etc.) 
Ability to maintain strict confidentiality in organizational matters. 
Ability to work long hours during the legislative session and commute to meetings and events throughout the state, as needed. 
Demonstrated ability to build and nurture a positive working environment, even in high intensity situations.  
Commitment to the highest ethical standards or lobbying and professionalism.  
Ability to travel throughout the state and occasionally to the continental United States.  
Demonstrated commitment to equity, diversity, inclusion and belonging (EDIB), both in the workplace and in collaboration with community partners and constituents. 

 
Location 
The ACLU of Hawaiʻi is in downtown Honolulu with paid parking provided. Residency in Hawaiʻi is required.  
Compensation and Benefits 
This is a full-time, salaried, exempt position with a salary of $60,000 annually and is based on the ACLU of Hawaii's pay equity structure.  
 Excellent benefits include generous vacation and sick leave; individual/family employer-provided health insurance with 100% of premiums covered for the employee; long-term disability; defined 401k contribution plan with employer match; paid parking; and 13 paid holidays with an additional 5 floating holidays available. This position is full-time and salaried under the Fair Labor Standards Act. 
How to Apply 
If you are excited about devoting your talents and skills to the ACLU of Hawaiʻi, please send—in a single combined PDF, and in the following order: (1) cover letter, (2) resume, (3) writing sample, and (4) three references to Jobs@acluhawaii.org. 
Writing sample: Your writing sample must be no longer than five (5) pages and should demonstrate your writing and critical analysis skills and/or your ability to present ideas or arguments in a clear and organized manner.  Your writing sample should relate to public policy issues.  For example, a research paper, analysis of a bill or legislative testimony. Your writing sample must also be your own work product. 
The subject line of your transmittal email must be in the following form: "Policy Legislative Assistant  Application – [Last Name], [First Name]".  
The ACLU of Hawai'i is committed to providing reasonable accommodations to individuals with disabilities. If you are an individual with a disability and need reasonable accommodation relating to the job announcement and application process, please email rleong@acluhawaii.org.   
Deadline   
We will review applications on a rolling basis until the position is filled with anticipated start date in July 2023.   When the position is filled, this job posting will be removed.   
The ACLU of Hawai'i is an equal opportunity/affirmative action employer. We value a diverse workforce and an inclusive culture. It is our policy to employ qualified people without regard to:  race; color; religion; sex; national origin; age; ancestry; disability; sexual orientation; veteran's status; marital status; civil union status; arrest or court record; citizenship; credit history; genetic information; gender identity or expression; status as a victim of domestic violence, sexual violence, or stalking; or any other characteristic protected under federal or state law.